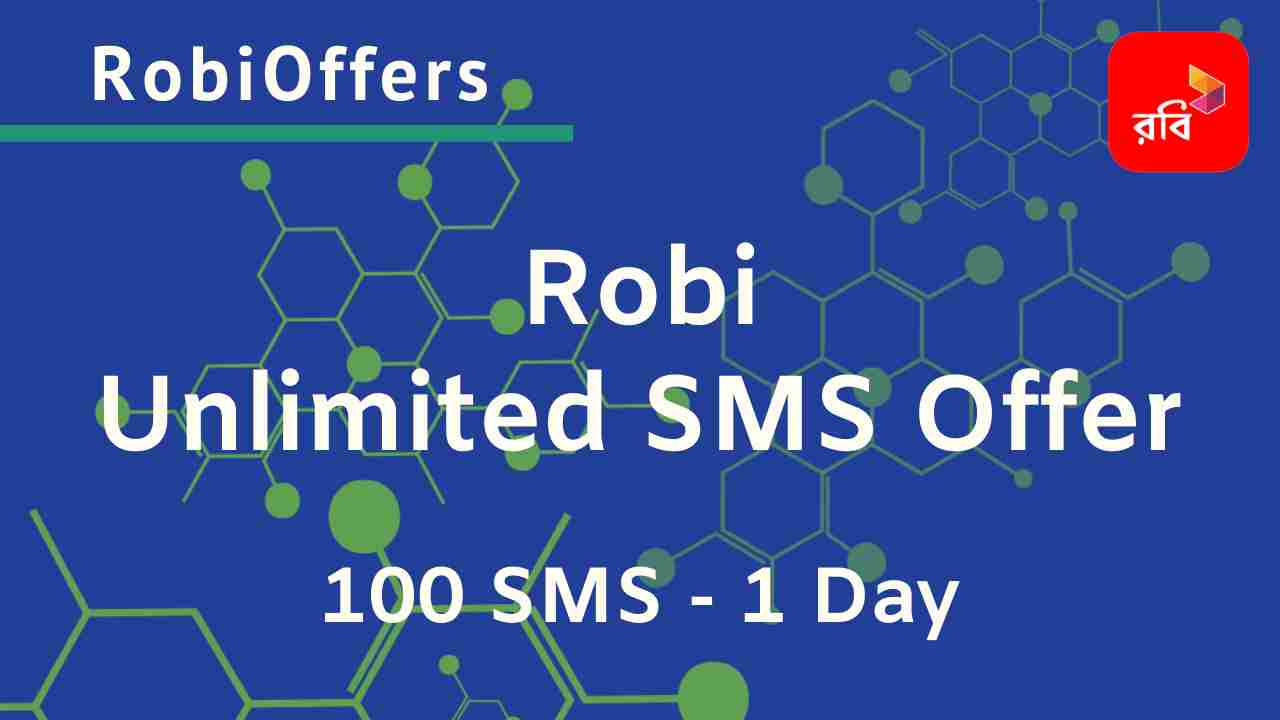 Robi Unlimited SMS Bundle Offer
UNLIMITED FnF package subscribers will now be able to enjoy unlimited SMS at only BDT 13.39 (including VAT, SD & SC)! to avail the offer.
আনলিমিটেড এফএনএফ প্যাকেজ গ্রাহকরা মাত্র ১৩.৩৯ টাকায় (ভ্যাট, সম্পূরক শুল্ক এবং সারচার্জ অন্তর্ভুক্ত) আনলিমিটেড SMS উপভোগ করতে পারবেন।
| | | |
| --- | --- | --- |
| SMS Package | SMS | Validity |
| BDT 13.39 | 100 | 1 Day |
---
আনলিমিটেড SMS প্যাক শুধুমাত্র আনলিমিটেড এফএনএফ প্যাকেজ গ্রাহকদের জন্য প্রযোজ্য।
সকল রবি প্রিপেইড গ্রাহক (উদ্যোক্তা, ইজিলোড/পিসিও, এসএমই এবং কর্পোরেট ব্যতীত) *৮৯৯৯*৯০# ডায়াল করে আনলিমিটেড এফএনএফ প্যাকেজে মাইগ্রেট করতে পারবেন।
রবি-রবি ৬০ এবং রবি-অন্যান্য অপারেটরে সর্বোচ্চ ৪০টি SMS পাঠানো যাবে।
SMS শুধুমাত্র লোকাল নম্বরে পাঠানো যাবে।
আনলিমিটেড SMS প্যাকের লিমিট শেষে P2P ট্যারিফ অনুসারে চার্জ প্রযোজ্য।
রবি-রবি SMS ব্যালেন্স চেক করতে *২২২*১০# ডায়াল করুন।
রবি-অন্যান্য অপারেটরে SMS ব্যালেন্স চেক করতে *২২২*২০# ডায়াল করুন।
প্যাকটি যতবার ইচ্ছা কিনতে পারবেন।
---
---
The UNLIMITED SMS pack is applicable for the UNLIMITED FnF package subscribers only.
Any Robi Prepaid customers (except Uddokta, Easyload/PCO, SME, and Corporate) can migrate to the UNLIMITED FnF package by dialing *8999*90#.
There is a cap of a maximum of 60 Robi-Robi SMS and 40 Robi-Others SMS.
SMS can be used for local numbers only.
After the consumption of this UNLIMITED SMS pack, P2P standard tariff will be charged.
To check the balance of Robi-Robi SMS, you need to dial *222*10#.
To check the balance of Robi-Others SMS, you need to dial *222*20#.
You can purchase this pack as many times as you want.
---
---
About Robi
Robi Axiata Limited (Robi) is a subsidiary company of the Asian telecom giant, Axiata Group Berhad, based in Malaysia. Other shareholders in the entity are Bharti Airtel International (Singapore) Pte Ltd and NTT DOCOMO Inc.
Robi is the second largest mobile network operator in Bangladesh with 46.88Mn subscribers as of end of December 2018. The company commenced operation in 1997 as Telekom Malaysia International (Bangladesh) with the brand name 'Aktel'. In 2010, it was rebranded as 'Robi' and the company changed its name to Robi Axiata Limited.
---
Post your comment