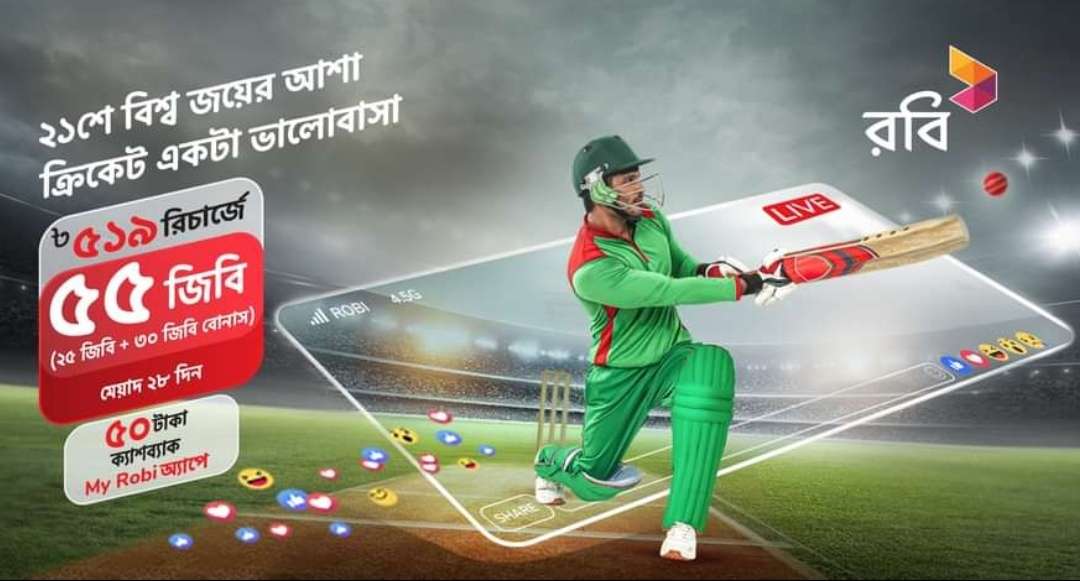 Special Recharge For T20 World Cup
রবি'তে স্পেশাল রিচার্জ অফার!
T20 World Cup-এ বিশ্ব জয়ের আশায় খেলবে টিম টাইগার্স আর বিশ্বকাপের পুরো মাস জুড়ে রবি'র পক্ষ থেকে পাচ্ছেন স্পেশাল রিচার্জ অফার।
৩৬৯ টাকা রিচার্জে ২৫০ মিনিট ও ২০জিবি (৮জিবি+ ১২জিবি বোনাস) মেয়াদ ৩০ দিন।
৫১৯ টাকা রিচার্জে ৫৫জিবি (২৫জিবি+৩০জিবি বোনাস) মেয়াদ ২৮ দিন।
আরো থাকছে ক্যাশব্যাক অফার! My Robi অ্যাপ, বিকাশ, নগদ, উপায় ও রকেট অ্যাপ থেকে ৩৬৯ টাকা রিচার্জে ২০ টাকা ক্যাশব্যাক আর ৫১৯ টাকা রিচার্জে ৫০ টাকা ক্যাশব্যাক।
---
Special recharge offer on Robi!
The Tigers will play in the hope of winning the World Cup in the T20 World Cup and will receive a special recharge offer from Robi throughout the month of the World Cup.
250 minutes with 209 taka recharge and 20 GB (6GB + 12GB bonus) valid for 30 days.
55 GB (25GB + 30GB bonus) valid for 28 days with 519 taka recharge.
From My Robi app, bKash, Cash, Way and Rocket app, Tk. 209 cashback on Tk. 369 recharge and Tk.
---
---
There are more cashback offers! 20 taka cashback on 369 taka recharge and 50 taka cashback on 519 taka recharge from My Robi app, bKash, cash, way and rocket app.
---
---
About Robi
Robi Axiata Limited (Robi) is a subsidiary company of the Asian telecom giant, Axiata Group Berhad, based in Malaysia. Other shareholders in the entity are Bharti Airtel International (Singapore) Pte Ltd and NTT DOCOMO Inc.
Robi is the second largest mobile network operator in Bangladesh with 46.88Mn subscribers as of end of December 2018. The company commenced operation in 1997 as Telekom Malaysia International (Bangladesh) with the brand name 'Aktel'. In 2010, it was rebranded as 'Robi' and the company changed its name to Robi Axiata Limited.
---
Post your comment