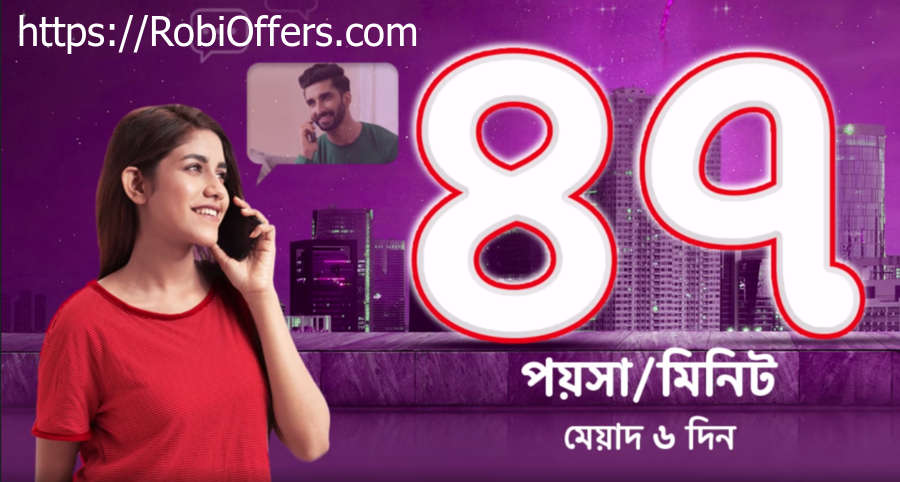 47 Paisa / Minute Call Rate on 46 Taka Recharge | New Year Offer
৪৭ টাকা রিচার্জে ৪৭ পয়সা/মিনিট কলরেট
কিছু মানুষের সাথে কথা যেন কখনো শেষই হতে চায় না! তাই নতুন বছরে রবি দিচ্ছে কথা বলার জন্য দেশের সেরা কলরেট! মাত্র ৪৭ টাকা রিচার্জে প্রিয়জনের সাথে নিশ্চিন্তে কথা বলুন ৪৭ পয়সা/মিনিটে, মেয়াদ ৬ দিন । অফারটি My Robi অ্যাপ, Bkash ও Nagad থেকে রিচার্জেও পাওয়া যাবে।
*কলরেটের উপর ট্যাক্স প্রযোজ্য।
---
---
47 paisa/minute call rate on 46 taka recharge
Talking to some people never wants to end! So in the new year, Ravi is giving the best call rate in the country for talking! Talk to your loved ones in recharge of only 47 taka in 47 paise/minute, duration 6 days. The offer can also be available in recharge from My Robi app, Bkash and Nagad.
* Tax on-call rate applies.
---
---
About Robi
Robi Axiata Limited (Robi) is a subsidiary company of the Asian telecom giant, Axiata Group Berhad, based in Malaysia. Other shareholders in the entity are Bharti Airtel International (Singapore) Pte Ltd and NTT DOCOMO Inc.
Robi is the second largest mobile network operator in Bangladesh with 46.88Mn subscribers as of end of December 2018. The company commenced operation in 1997 as Telekom Malaysia International (Bangladesh) with the brand name 'Aktel'. In 2010, it was rebranded as 'Robi' and the company changed its name to Robi Axiata Limited.
---
Post your comment