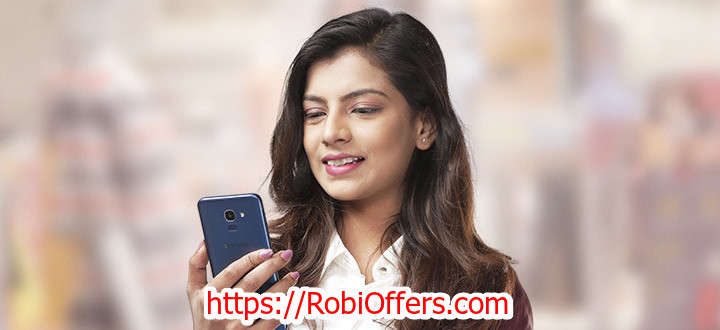 Robi Jhotpot Emergency Balance Service
রবি গ্রাহকরা যখন তাদের মূল অ্যাকাউন্টের ব্যালেন্স 5 টাকা থেকে কম হয় তখন ইমারজেন্সি ব্যালান্স পেতে পারেন। সমস্ত রবি প্রিপেইড গ্রাহকরা (উদোক্তা, ইজিলোড এবং কর্পোরেট বাদে) রবি ঝটপোট ব্যালেন্স উপভোগ করতে পারবেন।
আপনার ভারসাম্যের প্রয়োজন হলে রবি জরুরী ভারসাম্যটি পান MA গ্রাহকরা রবি জরুরী ইন্টারনেট ব্যালেন্সও পেতে পারেন। রবি প্রিপেইড গ্রাহকরা যে কোনও রবি মোবাইল নম্বর থেকে স্থানান্তরকে ভারসাম্য রাখতে পারবেন।
Robi Customers can get Emergency Balance when their main account balance is Low from 5 Tk. All Robi prepaid customers (except Uddokta, Easyload, and Corporate) can enjoy Robi Jhotpot Balance.
Get ON DEMAND Robi Emergency Balance when your balance needs. Customers can also get Robi Emergency Internet Balance. Robi prepaid Customers also can balance transfer from any Robi mobile number.
---
শর্তাবলী
সকল যোগ্য রবি প্রিপেইড গ্রাহক ১০০ টাকা পর্যন্ত ঝটপট ব্যালেন্স সেবা উপভোগ করতে পারবেন।
*৮# ডায়াল করে আপনি এই সেবার আওতাভুক্ত কিনা যাচাই করতে পারবেন।
ঝটপট ব্যালেন্স নিতে ডায়াল করুন *১২৩*০০৭#

(ফ্রি)

১২ টাকা কিংবা তার উপরে লোন নেওয়ার ক্ষেত্রে ২ টাকা (ট্যাক্সবাদে) SMS নোটিফিকেশন চার্জ প্রযোজ্য।
ঝটপট ব্যালেন্স যেকোনো ভয়েস কল অথবা SMS পাঠাতে প্রযোজ্য।
বান্ডেল প্যাকেজে কেনা মিনিট অথবা অন্যান্য ফ্রি বোনাস ঝটপট ব্যালেন্স-এর আগে ব্যবহৃত হবে।
ঝটপট ব্যালেন্স যেকোনো সময় ব্যবহার করা যাবে।
*১# অথবা *২২২# ডায়াল করে আপনার ঝটপট ব্যালেন্স চেক করুন।
আউটস্ট্যান্ডিং ব্যালেন্স (পরিশোধ না করা ঝটপট ব্যালেন্স) চেক করতে *৮# ডায়াল করুন এবং অ্যাকাউন্ট মেন্যুতে গিয়ে ১ চাপুন।
প্রোডাক্ট ট্যারিফ এবং পালস প্রযোজ্য।
১০% সম্পূরক শুল্ক + ১৫ % ভ্যাট (সম্পূরক শুল্ক অন্তর্ভুক্ত) + ট্যারিফের উপর ১% সারচার্জ প্রযোজ্য।
How to get Robi Emergency Balance?
Customer needs to subscribe to emergency balance service. Robi users need to write an SMS following format: START<>O to 8811
Also, Dial *123*007#

to take Robi emergency Taka. After dialling the code, You will get a confirmation code. Robi loan account balance validity is 30 days.

Customers can get an on-demand emergency balance at any time.
---
---
Robi Jhotpot Emergency Balance Offer Details:
All Robi prepaid subscriber will be eligible to get On Demand Jhotpot Balance from 12 - 100 Taka
Customers get Emergency Taka based on their usage Amount.
Robi Emergency Balance Code: *123*007#

(Free of cost)

Customers can check Robi Emergency Taka by sending the message from the below SMS Format.
On-Demand Jhotpot Balance status SMS Format: Type "STATUS" send it to 8811

number.

The customer does not need to dial any code for On-Demand Robi Jhotpot Balance De-registration.
Robi On-Demand Jhotpot Balance amount can be used for any voice calls, SMS.
On-Demand, Jhotpot Balance credit limit will be changed every month depending on the customer's usages and recharge pattern.
Customers will get 1 minute with the emergency loan.
Robi will cut a minimum service fee during emergency money repayment.
Terms & Condition:
Robi All Prepaid customers (except Uddokta, Easyload, and Corporate) are eligible for JhotPhot Balance.
Customers need to balance amount below 0-5 Taka.
Customers must need to biometric their SIM card.
Emergency Balance cannot be taken again without paying with instant balance.
This is a Promotional offer for Robi User.
---
---
About Robi
Robi Axiata Limited (Robi) is a subsidiary company of the Asian telecom giant, Axiata Group Berhad, based in Malaysia. Other shareholders in the entity are Bharti Airtel International (Singapore) Pte Ltd and NTT DOCOMO Inc.
Robi is the second largest mobile network operator in Bangladesh with 46.88Mn subscribers as of end of December 2018. The company commenced operation in 1997 as Telekom Malaysia International (Bangladesh) with the brand name 'Aktel'. In 2010, it was rebranded as 'Robi' and the company changed its name to Robi Axiata Limited.
---
Post your comment