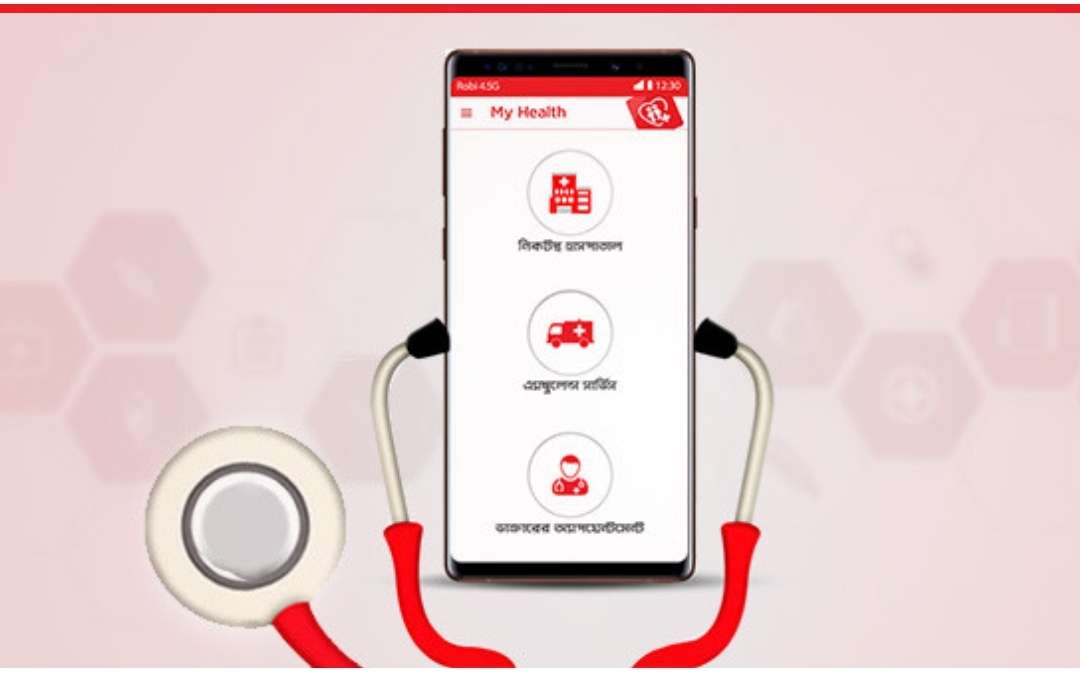 Health Plus App
My Health is a mobile application of Robi and Milvik's popular mobile health services & insurance brand My Health. This app allows easy access to quality health care services for both its free and paid subscribers.
আমার স্বাস্থ্য হ'ল রবি এবং মিলভিকের জনপ্রিয় মোবাইল স্বাস্থ্য পরিষেবা এবং বীমা ব্র্যান্ড মাই হেলথের একটি মোবাইল অ্যাপ্লিকেশন। এই অ্যাপ্লিকেশনটি এর নিখরচায় ও প্রদেয় গ্রাহকদের জন্য মানসম্পন্ন স্বাস্থ্যসেবা পরিষেবাগুলিতে সহজে অ্যাক্সেসের অনুমতি দেয়।
---
Features of the app:
Talk to a doctor: 24x7 unlimited doctor consultation through phone calls or chat option (with doctor call back facility)
ডাক্তারের সাথে কথা বলুন: ফোন কল বা চ্যাট বিকল্পের মাধ্যমে ডাক্তারের সাথে 24x7 সীমাহীন ডাক্তারের পরামর্শ (ডাক্তার কল ব্যাক সুবিধা সহ)
Find the nearest: Find out nearby hospital, pharmacy and ambulance service with contact details and address.
নিকটতমটি সন্ধান করুন: কাছের হাসপাতাল, যোগাযোগ ও যোগাযোগের বিশদ এবং ঠিকানা সহ অ্যাম্বুলেন্স পরিষেবা সন্ধান করুন।
Doctor appointment: Appointment booking service for in-person doctor consultation with our network of specialist partner doctors.
Consultation history: Access to all the previous doctor consultation history.
Health questions: Health-related questions and answers on common health topics.
Discount on medical test from partner hospital/diagnostic centers.
The app can be downloaded from Google Play Store. (http://tiny.cc/robi-inapp)
---
---
App Modality:
Any My Health subscriber is eligible to access the app to avail full App benefits and this app is a complementary benefit.
Non My Health subscribers can access limited features of the app.
My Health products can be subscribed by calling helpline 21216 (24/7)
---
---
About Robi
Robi Axiata Limited (Robi) is a subsidiary company of the Asian telecom giant, Axiata Group Berhad, based in Malaysia. Other shareholders in the entity are Bharti Airtel International (Singapore) Pte Ltd and NTT DOCOMO Inc.
Robi is the second largest mobile network operator in Bangladesh with 46.88Mn subscribers as of end of December 2018. The company commenced operation in 1997 as Telekom Malaysia International (Bangladesh) with the brand name 'Aktel'. In 2010, it was rebranded as 'Robi' and the company changed its name to Robi Axiata Limited.
---
Post your comment