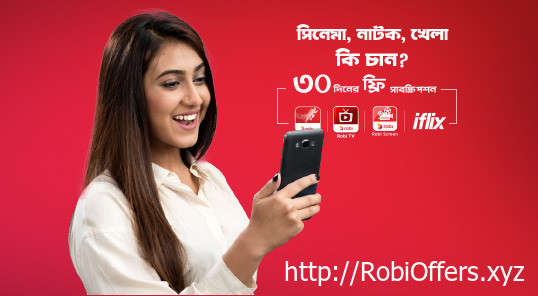 Robi Digital Solutions Pack
রিচ কন্টেন্ট সহকারে একাধিক ডিজিটাল সলিউশ প্যাক চালু করেছে রবি। এখন অফুরন্ত বোনাস আর ফ্রি কন্টেন্ট এক্সেস পাবেন শুধুমাত্র রবি'তে।
Robi has introduced digital solution packs equipped with rich content. For a seamless experience, the customers can enjoy BONUS subscription to access the content.
To enjoy the campaign, you need to purchase the data packs
Price
Validity
Volume
USSD Code
Content Benefits
Tk. 199
7
10GB
(7GB any + 3GB 4G)
*123*0199#
Free Subscription to
Robi My Sports, Robi TV, Robi Screen & iflix
501
30
6GB
*123*501#
649
30
10GB
*123*649#
---
---
---
---
About Robi
Robi Axiata Limited (Robi) is a subsidiary company of the Asian telecom giant, Axiata Group Berhad, based in Malaysia. Other shareholders in the entity are Bharti Airtel International (Singapore) Pte Ltd and NTT DOCOMO Inc.
Robi is the second largest mobile network operator in Bangladesh with 46.88Mn subscribers as of end of December 2018. The company commenced operation in 1997 as Telekom Malaysia International (Bangladesh) with the brand name 'Aktel'. In 2010, it was rebranded as 'Robi' and the company changed its name to Robi Axiata Limited.
---
Post your comment