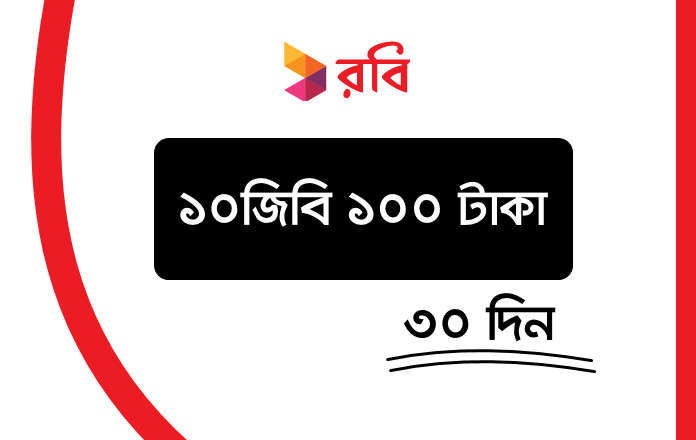 Robi Mega Internet Offer 10GB Tk100 for 30 Days
Robi 10GB Tk100 for 30 DAYS- Robi Mega Internet Offer (Robi 100Tk 10GB)! This time Robi and brought 10GB internet offer for only Tk100 30 days. Meanwhile, all other mobile operator companies have made such offers.
30 দিনের জন্য রবি 10 জিবি 100 টাকা- রবি মেগা ইন্টারনেট অফার (রবি 100 টেক 10 জিবি)! এবার রবি এবং 10 জিবি ইন্টারনেট অফারটি নিয়ে এসেছিল মাত্র 100 টাকায় 30 দিনের জন্য। ইতিমধ্যে, অন্যান্য সমস্ত মোবাইল অপারেটর সংস্থাগুলি এ জাতীয় অফার করেছে।
Robi 100Tk 10GB for 30 days offer only Robi special subscriber if you receive an SMS from the Robi Axiata limited as a name "Mega_Offer".
রবি 100Tk 10 জিবি 30 দিনের জন্য কেবল রবি বিশেষ গ্রাহক অফার করে আপনি যদি রবি আজিয়াটা থেকে "মেগা-অফার" নামে সীমাবদ্ধ এসএমএস পান।
Most people like long time validity internet offer the lowest price, so this offer is valid 30 days also the price is very low with 10GB data volume.
দীর্ঘ সময়ের বৈধতা ইন্টারনেটের মতো বেশিরভাগ লোকেরা সর্বনিম্ন দামের অফার দেয়, সুতরাং এই অফারটি বৈধ হয় 30 দিনেরও দাম 10 জিবি ডেটা ভলিউমের সাথে খুব কম থাকে।
---
Robi 10GB Tk100 for 30 DAYS- Robi Mega Internet Offer (Robi 100Tk 10GB) Information:
| Price | Offer | Validity | Activation Code |
| --- | --- | --- | --- |
| Tk 100 | 10GB | 30 Days | *21291*947#v |
---
---
Can I activate Robi 10GB Offer at Tk100?
Yes, you can activate Robi 10GB internet offer at price BDT.100 with 30 days validity, to active Robi 10GB offer just dial *21291*947#
Robi special customers can accept this amazing data offer.
100Tk 10GB Robi offer.
Validity 30 days.
To enable this offer just dial *21291*947#
Dial *3# to see your data balance.
A Customer can enjoy this offer only once time.
3G,4G supported the package.
24 hours can use this data package.
Limited time offer.
VAT, SD, included the price.
---
---
About Robi
Robi Axiata Limited (Robi) is a subsidiary company of the Asian telecom giant, Axiata Group Berhad, based in Malaysia. Other shareholders in the entity are Bharti Airtel International (Singapore) Pte Ltd and NTT DOCOMO Inc.
Robi is the second largest mobile network operator in Bangladesh with 46.88Mn subscribers as of end of December 2018. The company commenced operation in 1997 as Telekom Malaysia International (Bangladesh) with the brand name 'Aktel'. In 2010, it was rebranded as 'Robi' and the company changed its name to Robi Axiata Limited.
---
Post your comment