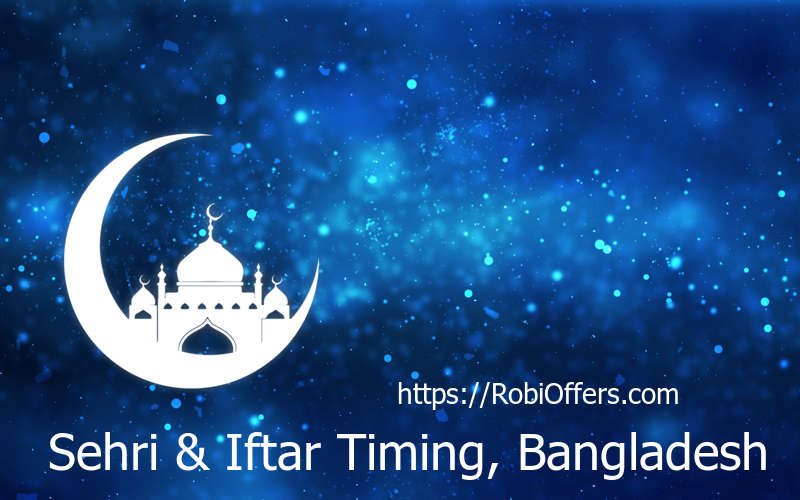 Iftar and Shahri Time Bangladesh 2020
Iftar and Shahri Time Bangladesh 2020! Ramadan calendar 2020, Bangladesh Islamic Foundation has released the schedule of Dhaka Sehri and Iftar time 2020.
The Ramadan 2020 will start in Bangladesh on 25 April Thursday, First Ramadan is dependent on seeing the moon.
Ramadan is the month of worship for the Muslims, This month, Allah has given special mercy to His servants.
Bangladesh Muslim Ummah Holy Eid ul Fitr will be celebrated on 25 May 2020. So the last day of Ramadan is May 24, 2020.
---
Iftar and Shahri Time Bangladesh 2020 Dhaka Ramadan Calendar:
---
---
---
About Robi
Robi Axiata Limited (Robi) is a subsidiary company of the Asian telecom giant, Axiata Group Berhad, based in Malaysia. Other shareholders in the entity are Bharti Airtel International (Singapore) Pte Ltd and NTT DOCOMO Inc.
Robi is the second largest mobile network operator in Bangladesh with 46.88Mn subscribers as of end of December 2018. The company commenced operation in 1997 as Telekom Malaysia International (Bangladesh) with the brand name 'Aktel'. In 2010, it was rebranded as 'Robi' and the company changed its name to Robi Axiata Limited.
---
Post your comment