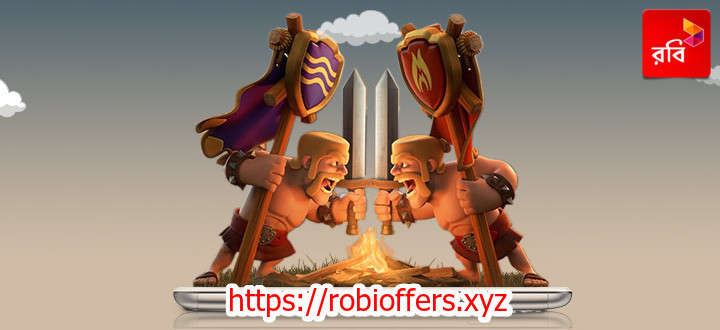 How to activate Robi Clash of Clans Internet Pack?
ক্ল্যাশ অফ ক্ল্যান্সের প্রেমীদের জন্য রবি একটি ক্লাশ অফ ক্লঞ্জের ইন্টারনেট প্যাক নিয়ে আসে! বাংলাদেশে প্রথমবারের মতো একমাত্র রবি ক্লাশ অফ ক্লানস ইন্টারনেট প্যাক দেয়!
বাংলাদেশের একটি উল্লেখযোগ্য গেমিং সম্প্রদায়, শহরগুলি জুড়ে ছোট ছোট শহরে ছড়িয়ে পড়ে, উত্সাহী বাংলাদেশী খেলোয়াড়রা এই অফারটি নিয়ে আনন্দিত হবে, এবং তারা এখন তাদের নিজস্ব সেনাবাহিনী উত্সাহিত, গৌরবময় গোঁফ থেকে পিওরোমানিয়াক উইজার্ডে নিয়ে যাবে এবং তাদের বাংলাদেশীদের নেতৃত্ব দেবে and বিজয়ের বংশ!
For the Clash of Clans game lovers, Robi brings a Clash of Clans Internet Pack! For the first time in Bangladesh, only Robi gives a Clash of Clans internet pack!
With a significant gaming community in Bangladesh, spanning across cities to small towns, avid Bangladeshi players will be elated at this offering, and they will now raise their own armies, from rage-filled Barbarians with glorious moustaches to pyromaniac wizards, and lead their Bangladeshi clans to victory!
---
Dial *123*405# to get 250 MB for 28 Days at BDT 28 only.
২২ দিনের জন্য ২২০ দিনের জন্য 250 এমবি পেতে ডায়াল করুন *123*405#
শর্তাবলী:
একাধিক ক্রয় সম্ভব।
আপনি সুপারসেলের সমস্ত গেম খেলতে পারবেন যেমন ক্লাশ অফ ক্লানস, ক্ল্যাশ রয়্যাল, বুম বিচ।
স্বয়ংক্রিয় পুনর্নবীকরণ বৈশিষ্ট্য প্রযোজ্য।
24 ঘন্টা ব্যবহারের সময় ব্যান্ড।
ডেটা ব্যালেন্স চেক করতে ডায়াল করুন *8444*88# এবং *123*3#
প্রিপেইড এবং পোস্টপেইড গ্রাহকরা এই অফারের জন্য যোগ্য।
---
---
Multiple purchases is possible.
You can play all games of Supercell, such as Clash of Clans, Clash Royale, Boom Beach.
The auto-renew feature is applicable.
24 Hours usage time band.
To check Data Balance, dial *8444*88# and *123*3#
Prepaid & Postpaid subscribers all eligible for this offer.
---
---
About Robi
Robi Axiata Limited (Robi) is a subsidiary company of the Asian telecom giant, Axiata Group Berhad, based in Malaysia. Other shareholders in the entity are Bharti Airtel International (Singapore) Pte Ltd and NTT DOCOMO Inc.
Robi is the second largest mobile network operator in Bangladesh with 46.88Mn subscribers as of end of December 2018. The company commenced operation in 1997 as Telekom Malaysia International (Bangladesh) with the brand name 'Aktel'. In 2010, it was rebranded as 'Robi' and the company changed its name to Robi Axiata Limited.
---
Post your comment