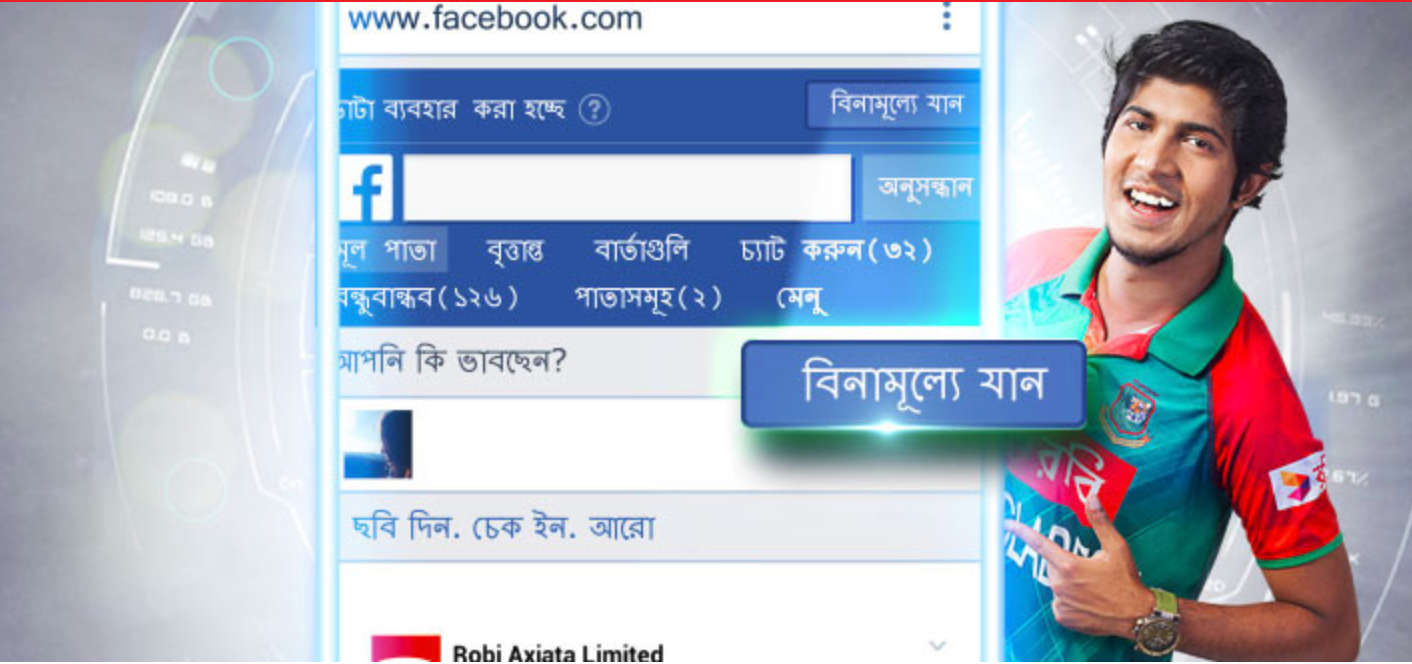 ফেসবুক লাইট-সুইচ Connect with Facebook for Free with Zero Balance
ফ্রি ফেসবুক ব্যবহার করুন এখন আরো সহজে!
মোবাইলে ইন্টারনেট থাকা অবস্থায় এবং শূন্য ব্যালেন্সেও এবার ফেসবুকিং করতে পারবেন!
আপনার ব্রাউজার থেকে www.facebook.com এ গিয়ে ক্লিক করুন:
A new way to use free Facebook !
Now you can always stay connected to Facebook with your mobile internet, even with zero balance!
Go to www.facebook.com from the browser, and click:
---
ছবি এবং ভিডিও দেখতে ক্লিক করুন:
To see photos & videos from the browser, click:
---
---
How to active: Video Tutorial
কিভাবে একটিভ করবেন:ভিডিও
All Robi users are eligible
Mobile data must be turned on during use
Facebook must be accessed using Robi SIM
Only Android handsets are supported
Update Android app to see Go to Free buttons
UC browser and other proxy browsers are not supported
সকল রবি গ্রাহক এই অফারের উপযুক্ত
মোবাইল ডাটা অন থাকা আবশ্যক
অবশ্য রবি সিম ব্যবহার করে ফেসবুকে লগিন করতে হবে
শুধুমাত্র অ্যান্ড্রয়েড হ্যান্ডসেট সাপোর্ট করে
'ফ্রি' বাটন দেখতে অ্যান্ড্রয়েড অ্যাপ আপডেট করুন
ইউসি এবং অন্যান্য প্রক্সি ব্রাউজার সাপোর্ট করে না
---
---
About Robi
Robi Axiata Limited (Robi) is a subsidiary company of the Asian telecom giant, Axiata Group Berhad, based in Malaysia. Other shareholders in the entity are Bharti Airtel International (Singapore) Pte Ltd and NTT DOCOMO Inc.
Robi is the second largest mobile network operator in Bangladesh with 46.88Mn subscribers as of end of December 2018. The company commenced operation in 1997 as Telekom Malaysia International (Bangladesh) with the brand name 'Aktel'. In 2010, it was rebranded as 'Robi' and the company changed its name to Robi Axiata Limited.
---
Post your comment